Once the plan has been made, the actual realisation of the sculpture begins. A block of bronze is not directly modeled as is stone or wood. I usually do the original sculpture in wax first but may also do this in some other material like wood, stone or papier mâché. It all depends on the subject.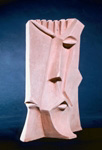 Modeling : For small sculptures, I use wax which I have prepared myself, although this can be bought ready made. Modeling wax softens to a low enough temperature to be worked by hand to achieve at least the general form of the sculpture. For more detail, precise tools (a dentists spatula, for example) are essential and these are heated by flame.
In this exemple, "L'Homme Anguleux", the original was in clay.

Original or Limited edition. For a original piece, the wax is given directly to the founder. On the other hand, if several copies are required, a mould has to be made. The mould stage is also essential if the original is in wood or stone and if the founder uses the lost wax method. In this case, the mould is used to produce a wax copy.